Regular price
$34.99 CAD
Sale price
$29.99 CAD
Unit price
per
Sale
Sold out
Eco-Friendly Bamboo Toothbrush - Sustainable Oral Care for a Greener Smile 🌿


Experience the perfect fusion of sustainability and oral hygiene with our Eco-Friendly Bamboo Toothbrush. Made from biodegradable and renewable bamboo, this toothbrush is designed for those committed to protecting our environment while maintaining impeccable dental health.
🌱 Sustainable Material: Our bamboo toothbrushes are crafted from environmentally friendly, renewable bamboo, significantly reducing their environmental impact compared to plastic alternatives.
♻️ Zero Waste Living: Embrace a waste-minimizing lifestyle with our biodegradable toothbrushes, designed to decompose naturally without polluting our planet.
🦷 Gentle Oral Care: The ultra-soft, BPA-free bristles ensure a gentle yet effective clean, suitable for all types of teeth and gums.
🌍 Earth-Friendly Choice: Our bamboo toothbrushes promote responsible consumption, aligning with the values of eco-conscious consumers.
✅ Ethically Sourced & Produced: Our toothbrushes are made from ethically sourced materials, ensuring fair labor practices and a reduced carbon footprint.
🎋 Natural Aesthetic: Enjoy the elegant, minimalist design of our bamboo toothbrushes, which blend seamlessly with any bathroom decor.
🌟 Vegan & Cruelty-Free: Our bamboo toothbrushes are free from animal-derived materials and have not been tested on animals.

Switch to our Eco-Friendly Bamboo Toothbrush and make a positive impact on the environment while keeping your teeth clean and healthy. Order yours today and take a step towards sustainable living.




IN THIS PACK YOU GET : 
1 SUNNY PINK - 1 SOFT LILAC - 1 GLACIER BLUE - 1 MINTY GREEN

2 KIDS UNICORN - 2 KIDS SUPERHERO 


*Some toothbrush orders, including our subscriptions, may be received without the box and with the sealed sleeve only.
*Some toothbrush orders, including our subscriptions, may be received without the box and with the sealed sleeve only.
Share
View full details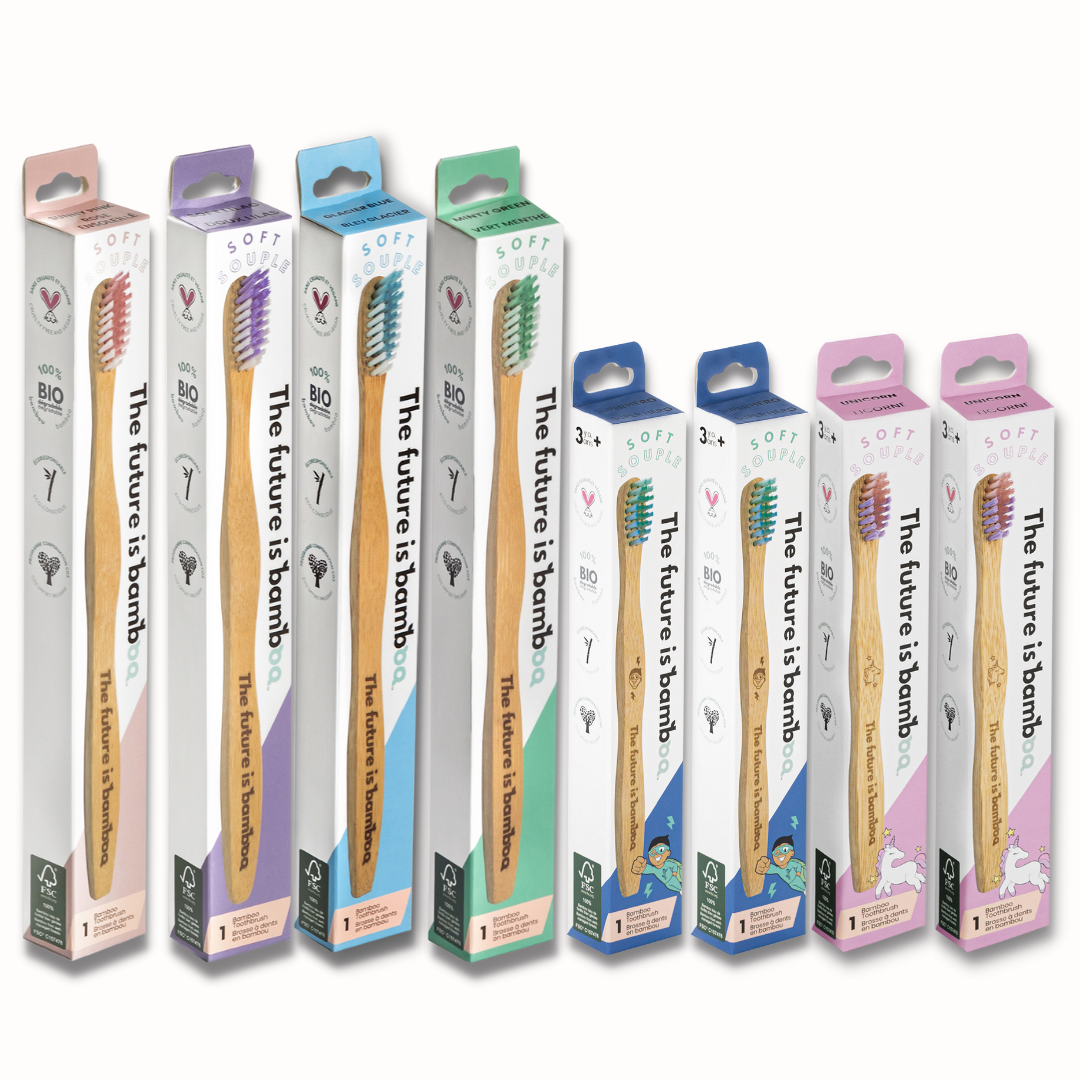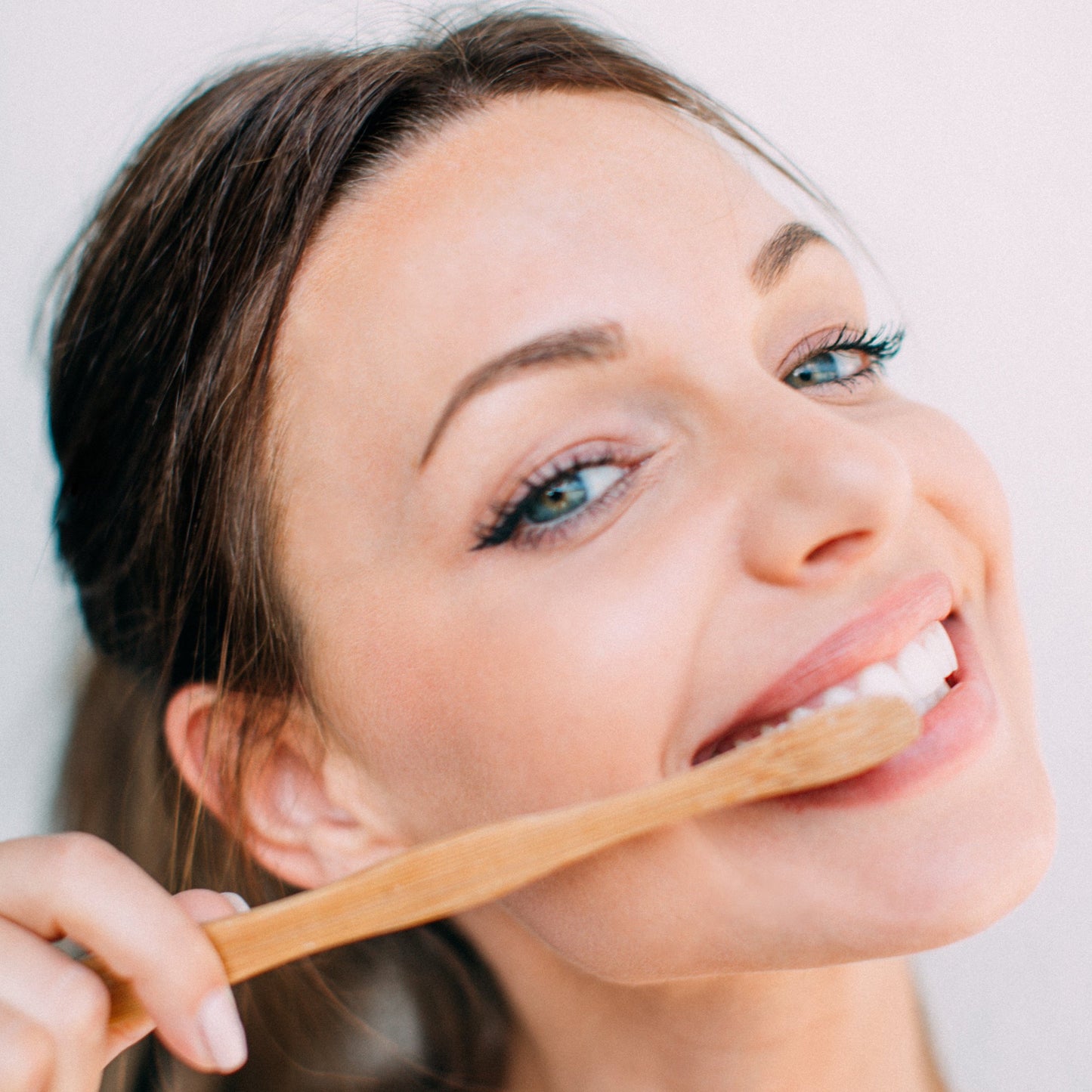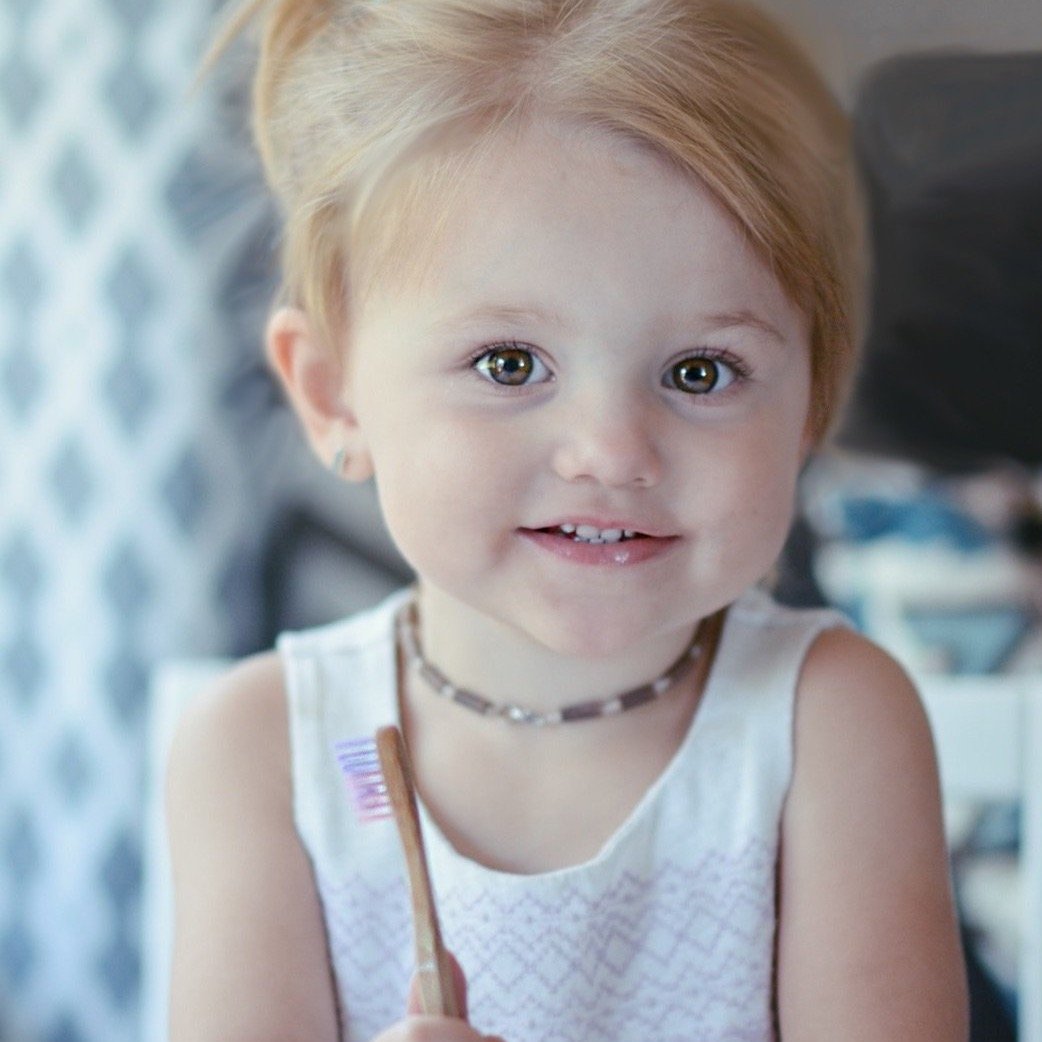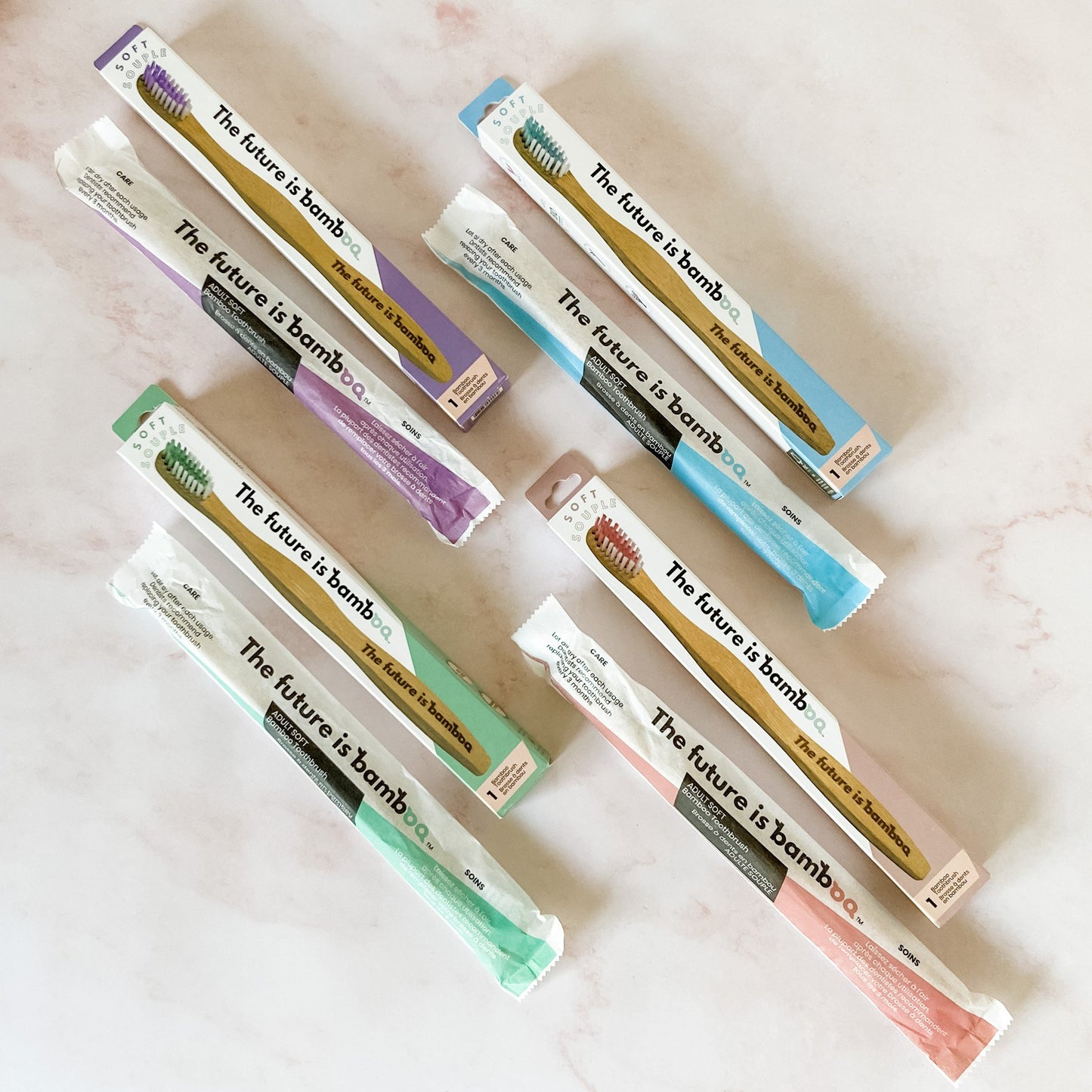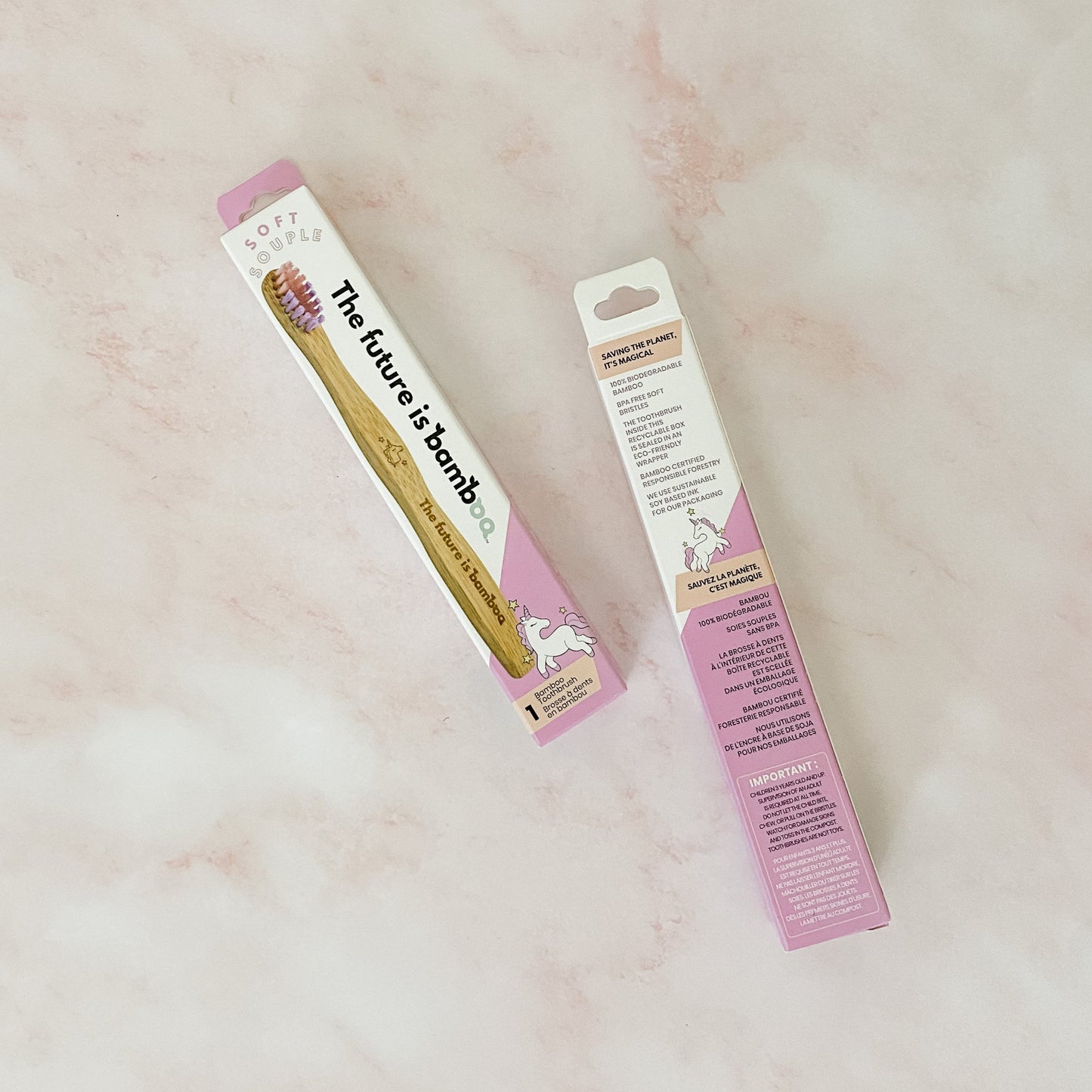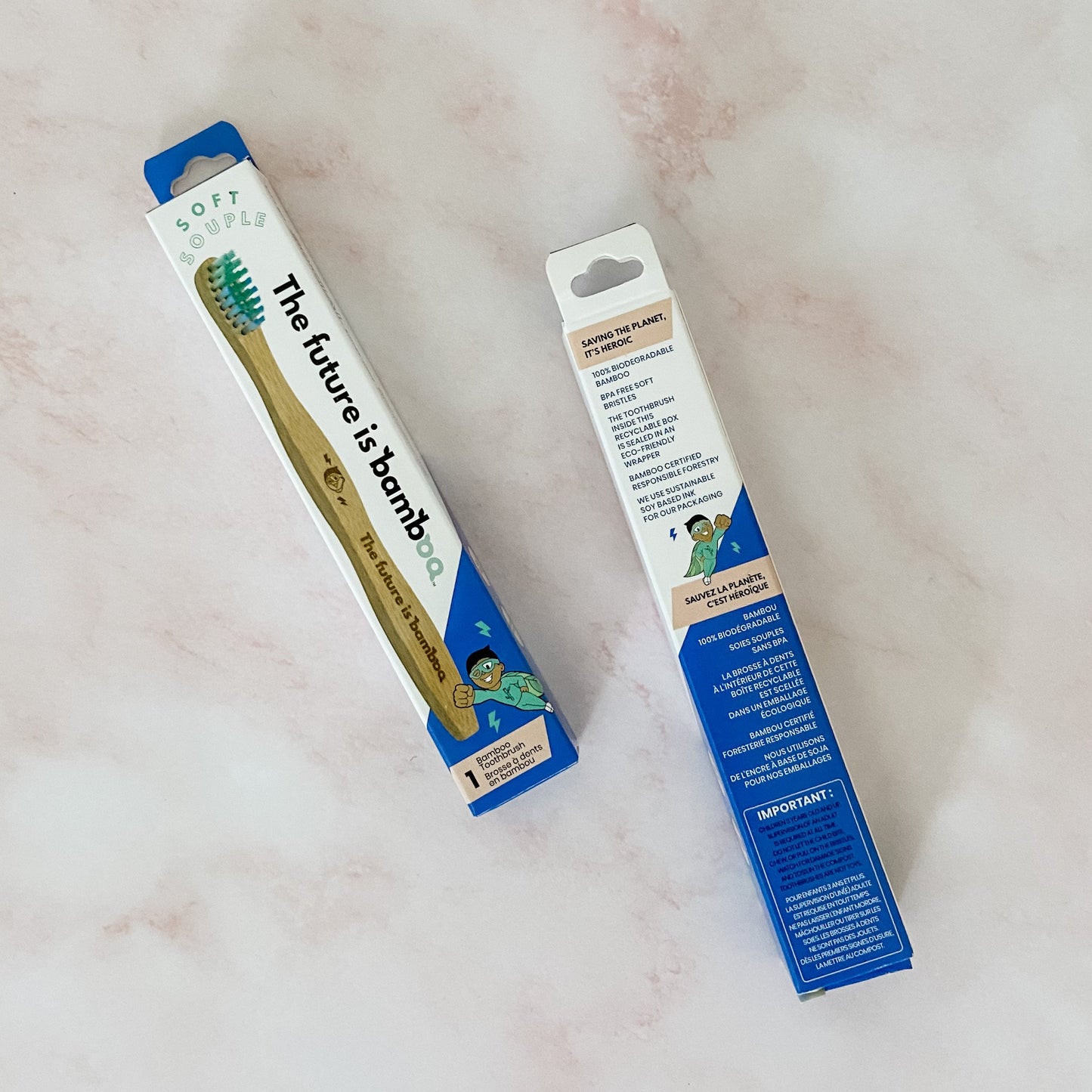 Adult Soft Bamboo Toothbrushes Family 8-Pack
Soft and colourful bristles!
We just switched to these bamboo toothbrushes from another Canadian bamboo company. The reason is that we could never tell who's brush was who's in our solid-coloured toothbrush holder because the colors we're at the base of the handles only. With the Future is Bamboo toothbrushes, it's now much easier to see which toothbrush is yours with the different coloured bristles. My entire family loves them!
My teeth feel so clean!
I've been wanting to try bamboo toothbrushes for so long now and I was pleasantly surprised with how clean my teeth feel after brushing. I love the different colours that come in the family pack, as well as the kids unicorn and superhero designs for kids brushes - my family of 5 each gets their own colour/design
Love it!
Great product, soft enough for my gums but strong enough to brush well.