Regular price
$6.99 CAD
Sale price
$5.49 CAD
Unit price
per
Sale
Sold out
Transform Your Oral Care Routine with Sustainable Eco Floss Picks

Introducing our Eco Floss Picks, the perfect addition to your daily oral care routine. Made from plant-based materials, these picks are both good for you and the planet.


Key Features:
100% Plant-Based: Unlike conventional floss picks, ours are made entirely from plant-based materials, offering you a sustainable way to maintain your oral hygiene.
Two Refreshing Varieties: Our Eco Floss Picks come in two refreshing flavors: invigorating Charcoal Lemon and cooling Fresh Mint. Each variety brings a unique cleansing experience, leaving your mouth feeling fresh and clean.
Effective Cleaning: The sturdy, durable design enables easy access to hard-to-reach areas, while the high-quality floss efficiently removes plaque and food particles.
Eco Packaging: Not just the picks, even our packaging is eco-friendly. Say goodbye to excessive plastic waste and embrace our minimalist, recyclable packaging.
Vegan & Cruelty-Free: We believe in products that are kind to all beings. Our floss picks are not tested on animals and are suitable for vegans.
Product Specifications:
Materials: Plant-Based
Flavors: Charcoal Lemon, Fresh Mint
Packaging: Recyclable
How To Use:
Gently slide the floss between your teeth, moving it back and forth against the teeth and up and down against each tooth. Discard after use.
AVAILABLE IN FRESH MINT // CHARCOAL-LEMON
50 Eco Floss Picks 
*PLA may be composted in Industrial Composting Factories. Check www.findacomposter.com for more info.
*Vegan floss is not compostable. Please cut/remove before tossing.
Keep out of children's reach || Not recommended for children.
Share
View full details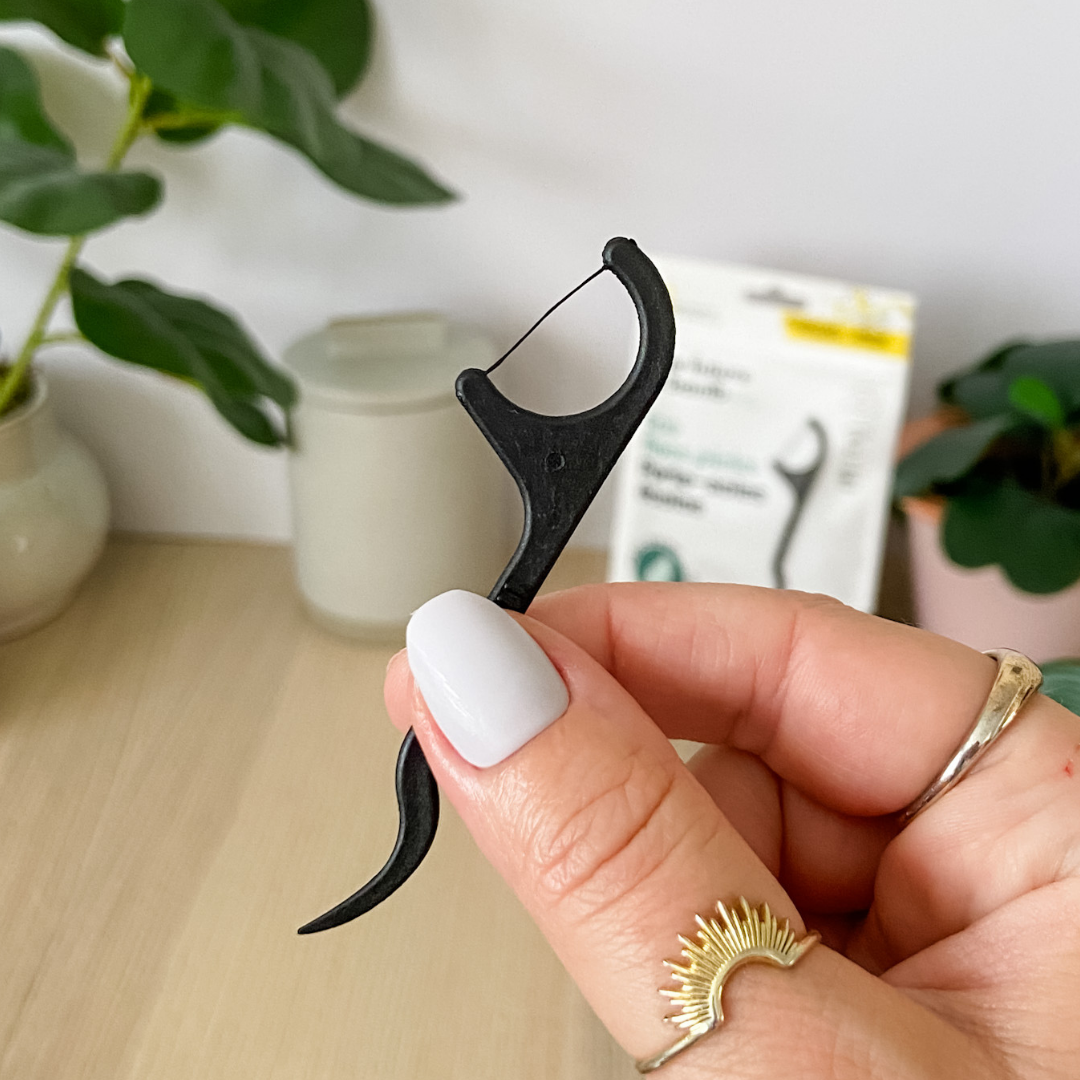 wait what?
this feels like such a bummer with misleading 100% compostable language, then the fine print says the floss is not biodegradable and to cut it off before composting. Please make a truly 100% biodegradable product!!
Floss picks
The best on the market. The only one that works for me these are the best I ever used.
Great product!
Our whole family loves these flossers. Strong floss, and we love that they are biodegradable!
Je compte en acheter à nouveau!! Belle découverte écologique!!
Great Picks, But Packaging Isn't Compostable?
Bought these because I love that I'm able to floss completely vegan + waste free! The picks work great. However, the packaging appears to be plastic... which is a little disappointing considering the whole point of buying these is to be waste free.
Not sure if the bag is the bamboo plastic as well? It doesn't address that anywhere on the site so I'm just going to assume it's not.
Hi Mackenzie, thank you for your review and feedback!
We are thankful for your support and purchase.
The current batch of our Eco Floss Pick is 100% recyclable with paper and a very thin PET coating to protect the soy based ink we use.
However, I'm happy to report that our next batch of Eco Floss Picks bags will be with PBAT or PLA.
PBAT is a polymer that breaks down completely when home-composted leaving no toxic residues behind and PLA is the same material for our Eco Floss Picks! We are still developing the bags, so we will update our social media of any changes, stay tuned :)