Regular price
Sale price
$12.99 CAD
Unit price
per
Sale
Sold out
Ditch meal time plastics with our Zero Waste Bamboo Utensil Kits

WHAT'S INCLUDED 
1 FORK - 1 KNIFE - 1 SPOON - 1 STRAW + CLEANER
EASY-TO-CARRY "PASTEL ALPACA" POUCH IS MADE FROM RECYCLED PLASTIC BOTTLES
CAN BE CLIPPED ON BACKPACKS, TOTES AND MORE 

SUSTAINABLE : Bamboo utensils can be reused and are biodegradable 

WASHABLE + REUSABLE : Simply wash with soap and provided cleaning brush after each use to prolong their lifespan
PLASTIC-FREE MEALS ON THE GO : Perfect for school & work lunches, amusement park, picnics, road trips, camping and more. 
Hand Wash Recommended || Food Safe
Reasons we love this product : These bamboo items are all reusable, washable and biodegradable, helping you ditch single use plastics for good. Ideal for lunchboxes, office, trips, at home, picnic and even at the restaurant.

Our exclusive RPET fabric pouches are made from recycled plastic bottles, giving them a second life. The handy carabiner makes it easy to clip on hand bags, backpacks, key chain, etc.

Take it anywhere with you!!

How to : Wash the utensils before the first use and after each use. It is best not to wash them in the dishwasher to ensure the durability of the product and let them dry before storing them. *Please note eco-friendly slogans on straws may vary. Watch for signs of wear and replace as needed.

WARNING: Not for children under the age of 3. Children under the age of 12 should be supervised when using any type of utensil.
Share
View full details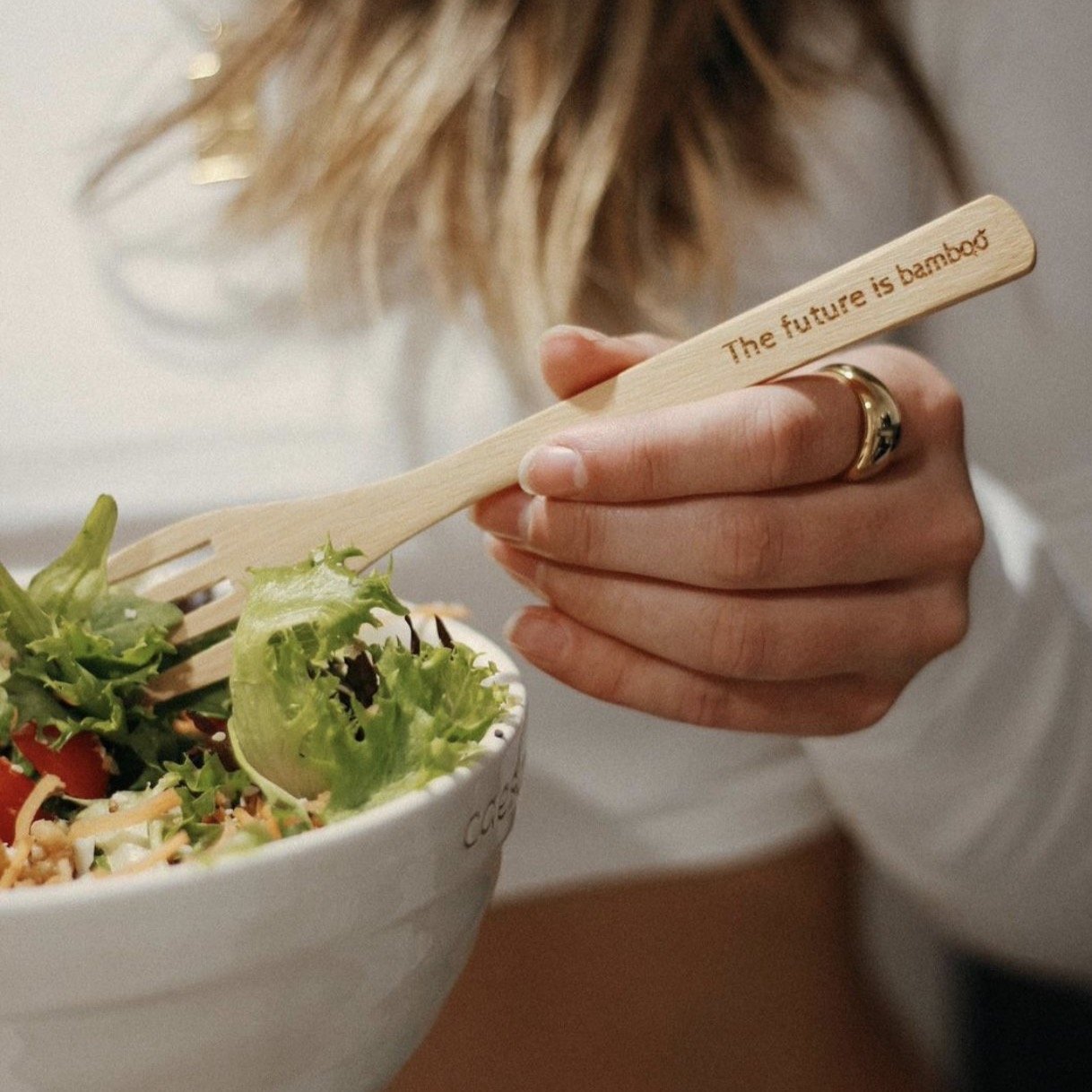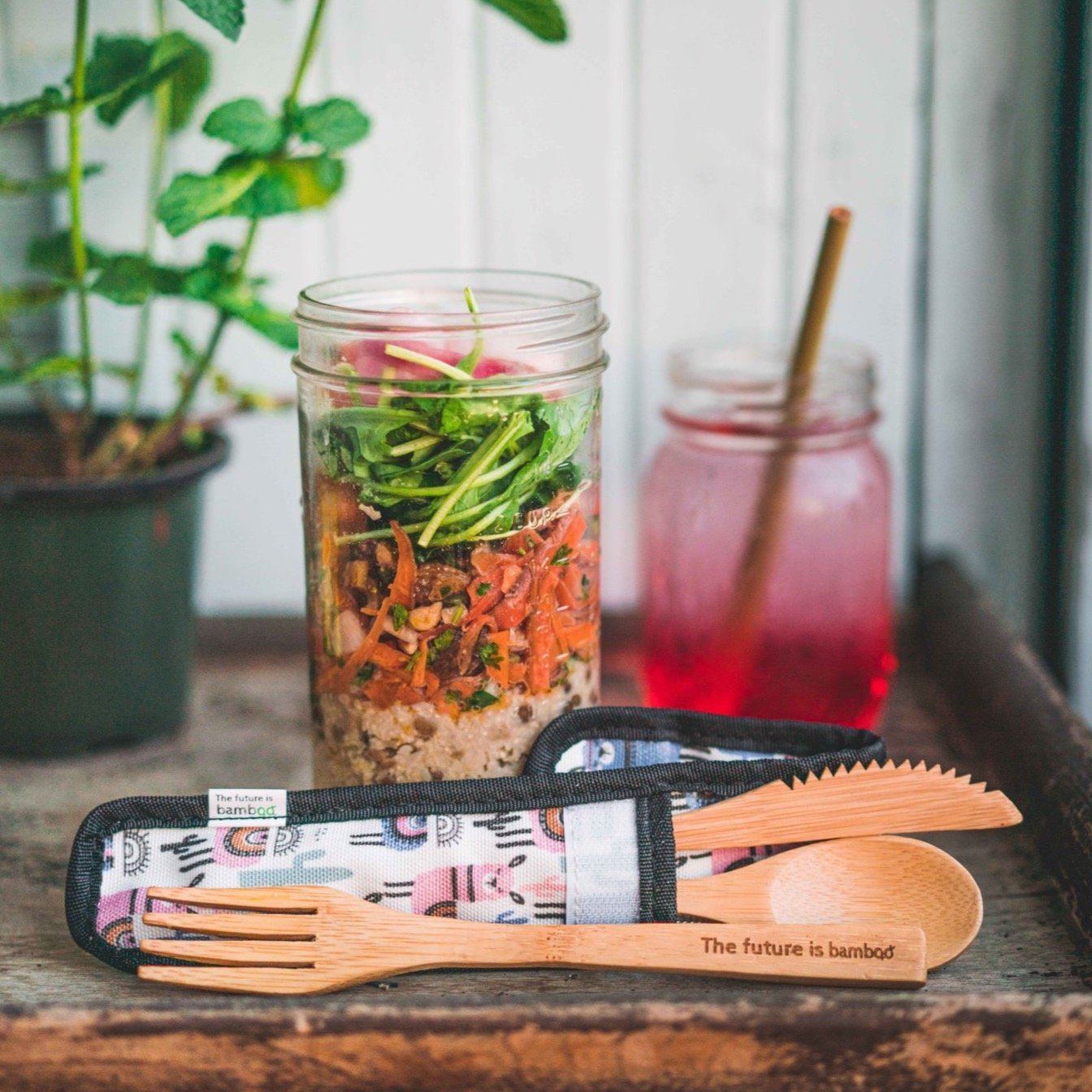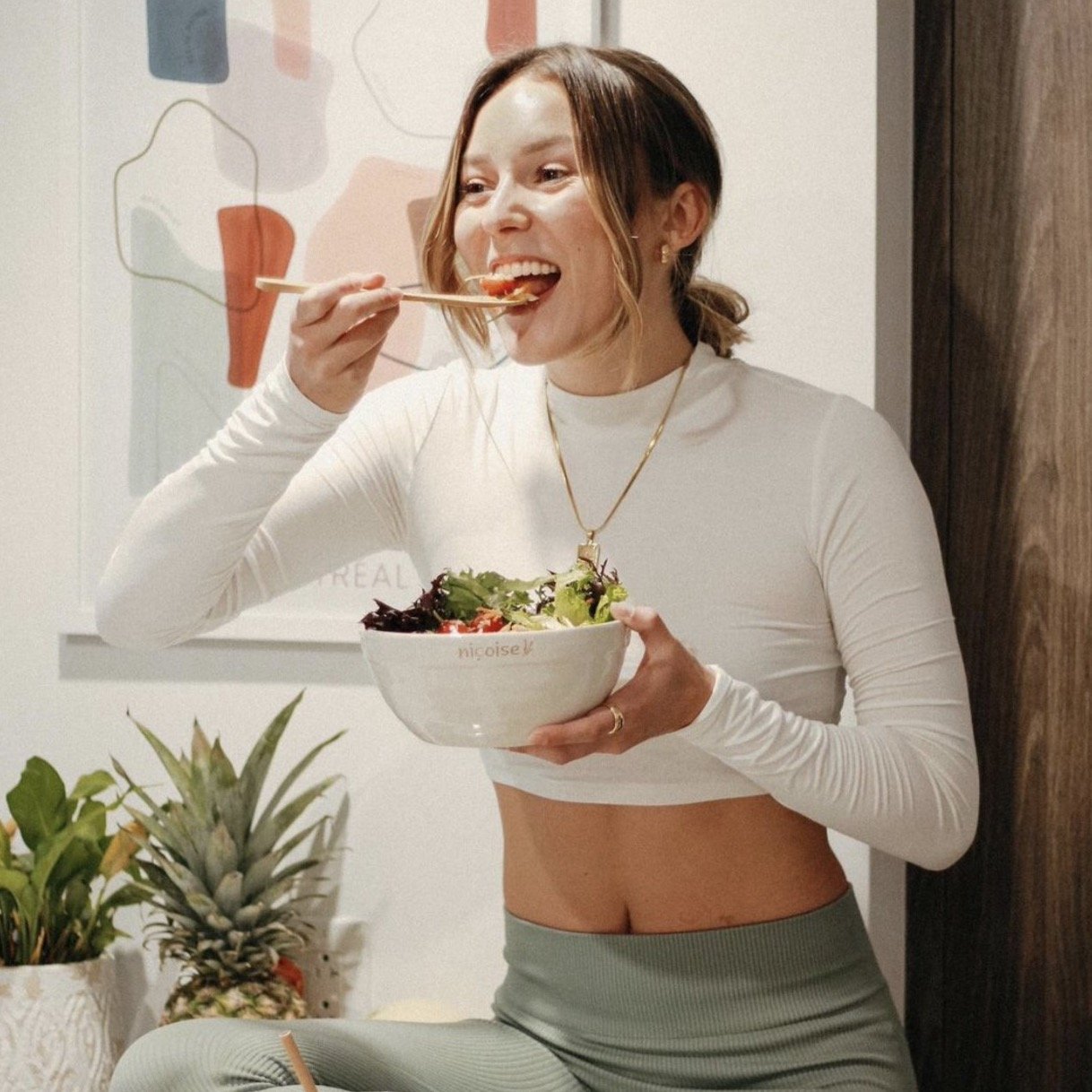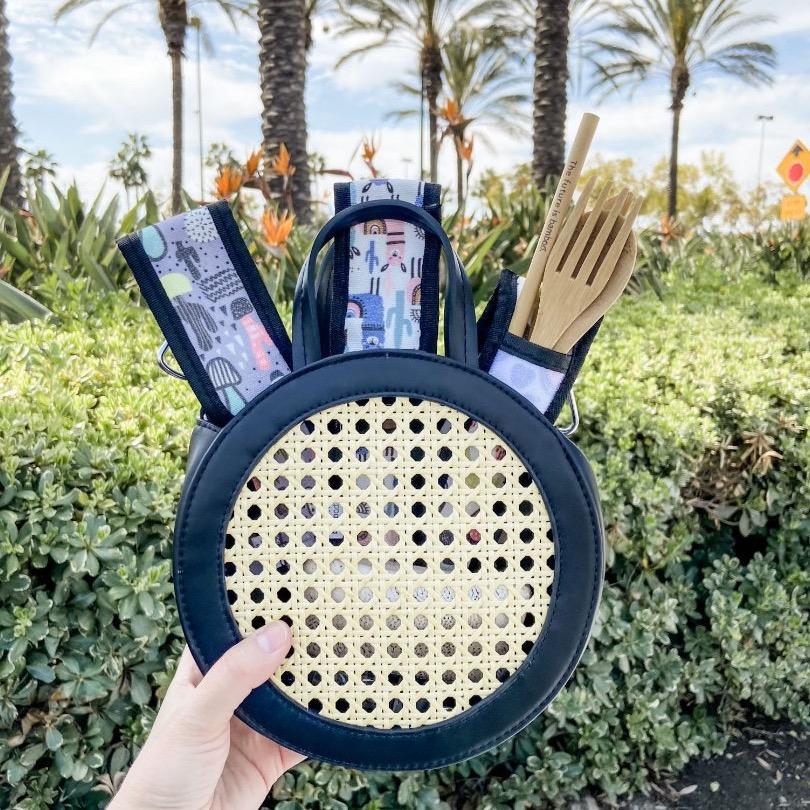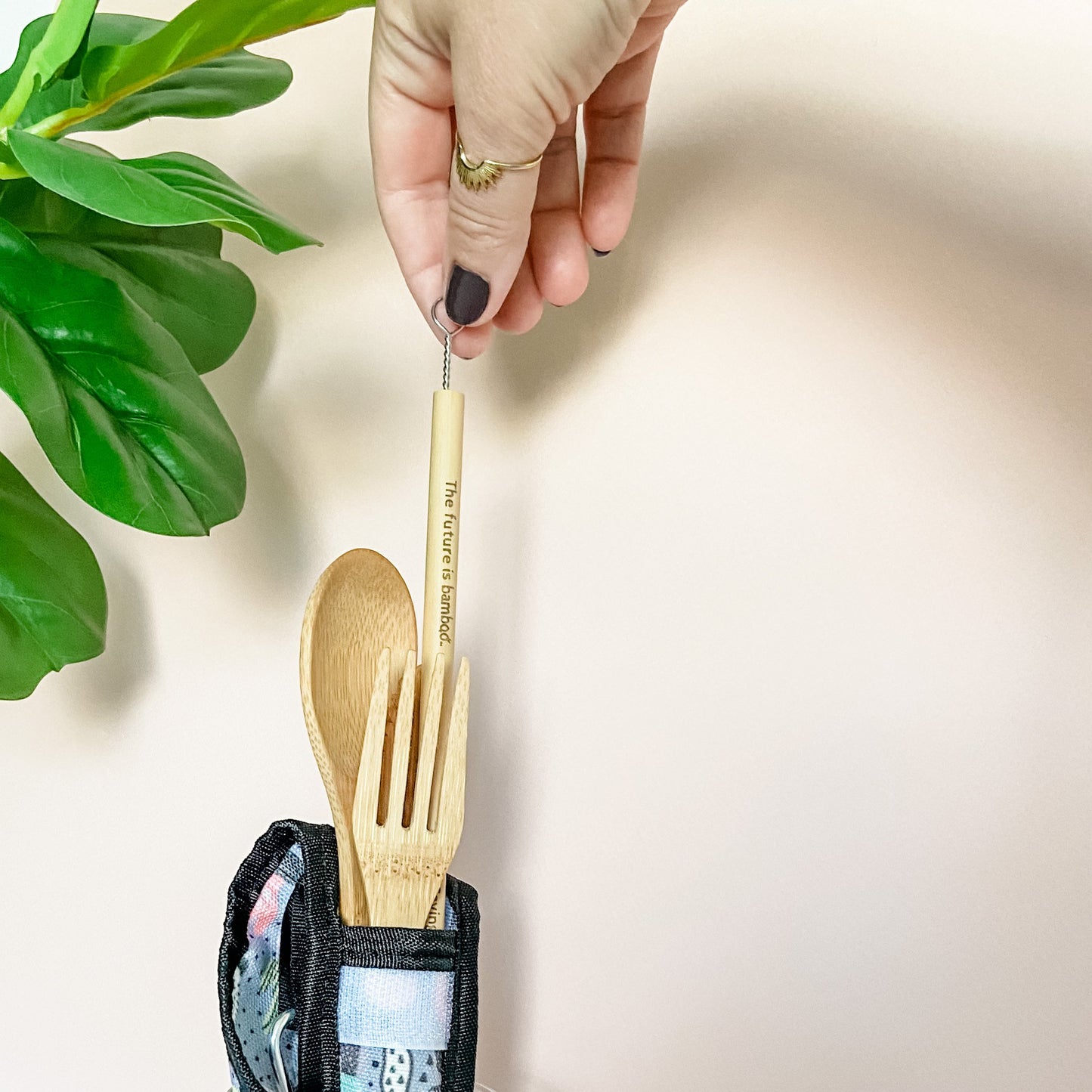 These are coming with us on vacations
I have a few different kinds of travel utensils, and I do like bamboo a lot. These have been through the dishwasher and survived just fine. The fork is pointy enough to easily spear food, and the knife is serrated enough to cut meat. The bowl of the spoon isn't very deep, so slurping soup might not be really easy, but it's sturdy and will transport your mashed potatoes or pudding easily.
When you first take the fork or spoon out of the package (when it's nice and dry) it doesn't slide very easily against your lips. Once you've been using it a while, especially if the food is saucy like yummy orange chicken!) it slides a little better. There wasn't a problem with splinters - the wood is really smooth, it's just not as slidey as plastic or metal.
I don't like the straw as much, though there wasn't a problem with it. I could taste the wood when I tried, but I honestly don't remember trying to taste a plastic straw before. After a few sips, I didn't notice. I like reusable plastic straws better, but this was OK.
This is going to so come in handy when we go to WDW in a few months!
Got these for my sensory sensitive daughter
My daughter has sensory issues with metal silverware and always requests plastic. I really hate single use plastic, and the multi use stuff just wasn't cutting it. I bought these for her and she is ecstatic! She says they feel much better, and she loves that the set is just for her. I taught her how to wash it right after use and they are holding up well with daily use.
Bamboo Utensil Kit Pastel Alpaca
Simply perfect and really cute
Love love
I bought 3 of these-- one for each of my kids and then myself. Instead of plastic utensils for school or taking my good cutlery, I decided to buy these... So glad I did, so nice to have mine at work so if I do lunches I don't have to use plastic and its right there!!!
So Good!
The quality of this set is so good. And the packaging is so cute. It actually makes for a lovely gift. I already plan to get a couple more to send as gifts.
Keep up the amazing work!