10 zero waste and sustainable bathroom products
There is a whole lot of plastic and waste in conventional bathroom products - not to mention toxic ingredients. The wide selection and variety of zero waste alternatives can be overwhelming and that's why we created this shortlist of our favorite eco-friendly items. We wanted to make your life easier and to make sure you don't waste any money on useless products. Read the lines below to discover 10 easy swaps you can make to transition to a more low waste, sustainable bathroom.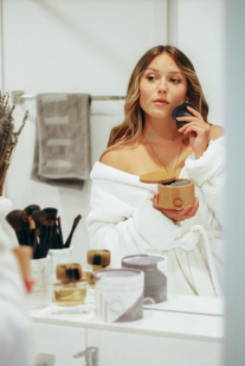 The future is bamboo reusable facial rounds



Not only are they non-recyclable and non-degradable, but it also takes a ton of water to produce each single-use cotton pad. On top of that, unless it's made from organic cotton, it's grown with pesticides that damage the surrounding environment.


Lavami everyday shampoo bar

This one is a complete game-changer. Instead of buying your shampoo in plastic bottles, think about getting it in bar form. The main reason to do so is that they create ZERO plastic waste!


Mouthwash tabs and toothy tabs

If you're a beginner zero-waster, these are one of the easiest things to change. By getting the LUSH toothy tabs, you'll avoid getting more plastic disposable containers and unhealthy products in your toothpaste.


The future is bamboo bamboo toothbrush

First of all, bamboo is an environmentally friendly material & also the world's fastest-growing plant. There are plenty of advantages that a bamboo toothbrush can offer like eliminating unnecessary waste. Also, unlike plastic, properties inside the bamboo kill bacterias that penetrate its surface and that's why we can proudly say that it's antimicrobial.



Attitude natural deodorant





It's time to raise your hands and enjoy chemical-free confidence with natural deodorants that work. Attitude

natural deodorants contain plant-based moisturizers that treat your underarms like the delicate skin they are.


Easy 100% organic tampons

There are so many great options available on the market right now! Most of us don't even know that many tampon brand ingredients are bad for our health. What's cool about easy tampons is that they sell tampons without applicators - it can be daunting at first, but their small size is really convenient and of course, less waste!


The future is bamboo cotton swabs

Plastic cotton swabs are among the most common plastic waste in aquatic environments and represent a real danger for the environment. One easy way to make a difference is by switching to bamboo cotton swabs. They're biodegradable, cruelty-free and super soft.


Cocoon Apothecary safety razor

A safety razor is a unique type of razor that is built to last a lifetime. In addition to that,

shaving with a safety razor reduces skin irritation, shave bumps and ingrown hairs that are common with a cartridge or electric razors.

By using a safety razor you're also lowing your impact on the environment. You only need to dispose of a single blade during a change out so by using this type of razor, you're lowing your impact on the environment.


Seventh Generation bathroom tissue

Conventional toilet paper is responsible for the destruction of a whole lot of trees. If you want to save water, decrease waste, avoid chemicals and decrease deforestation, you should definitely opt for recycled toilet paper.


Attitude liquid hand soap refill

Buying this product plants a tree for a better tomorrow - this is already a really good reason to purchase it. This hand soap is vegetable-based, biodegradable and you won't find any chemicals linked to cancer in the ingredients. Buying refills also allow your original bottle to last longer and help reduce waste.
That wraps up our top 10 sustainable and zero waste bathroom swaps that we believe are worth your money and that everyone should own. Did this article help you get closer to your zero-waste goals? Let us know your thoughts and comments, we want to hear from you guys!