Regular price
$0.00 CAD
Sale price
$21.99 CAD
Unit price
per
Sale
Sold out
Eco-Friendly Bamboo Toothbrush - Sustainable Oral Care for a Greener Smile 🌿


Experience the perfect fusion of sustainability and oral hygiene with our Eco-Friendly Bamboo Toothbrush. Made from biodegradable and renewable bamboo, this toothbrush is designed for those committed to protecting our environment while maintaining impeccable dental health.
🌱 Sustainable Material: Our bamboo toothbrushes are crafted from environmentally friendly, renewable bamboo, significantly reducing their environmental impact compared to plastic alternatives.
♻️ Zero Waste Living: Embrace a waste-minimizing lifestyle with our biodegradable toothbrushes, designed to decompose naturally without polluting our planet.
🦷 Gentle Oral Care: The ultra-soft, BPA-free bristles ensure a gentle yet effective clean, suitable for all types of teeth and gums.
🌍 Earth-Friendly Choice: Our bamboo toothbrushes promote responsible consumption, aligning with the values of eco-conscious consumers.
✅ Ethically Sourced & Produced: Our toothbrushes are made from ethically sourced materials, ensuring fair labor practices and a reduced carbon footprint.
🎋 Natural Aesthetic: Enjoy the elegant, minimalist design of our bamboo toothbrushes, which blend seamlessly with any bathroom decor.
🌟 Vegan & Cruelty-Free: Our bamboo toothbrushes are free from animal-derived materials and have not been tested on animals.

SOCIAL GOOD : With our Rainbow program, 10% of profits from the Rainbow toothbrush sales are given to social and environmental causes. 


Switch to our Eco-Friendly Bamboo Toothbrush and make a positive impact on the environment while keeping your teeth clean and healthy. Order yours today and take a step towards sustainable living.




IN THIS PACK YOU GET : 
4 RAINBOW TOOTHBRUSHES

*Some toothbrush orders, including our subscriptions, may be received without the box and with the sealed sleeve only.
Share
View full details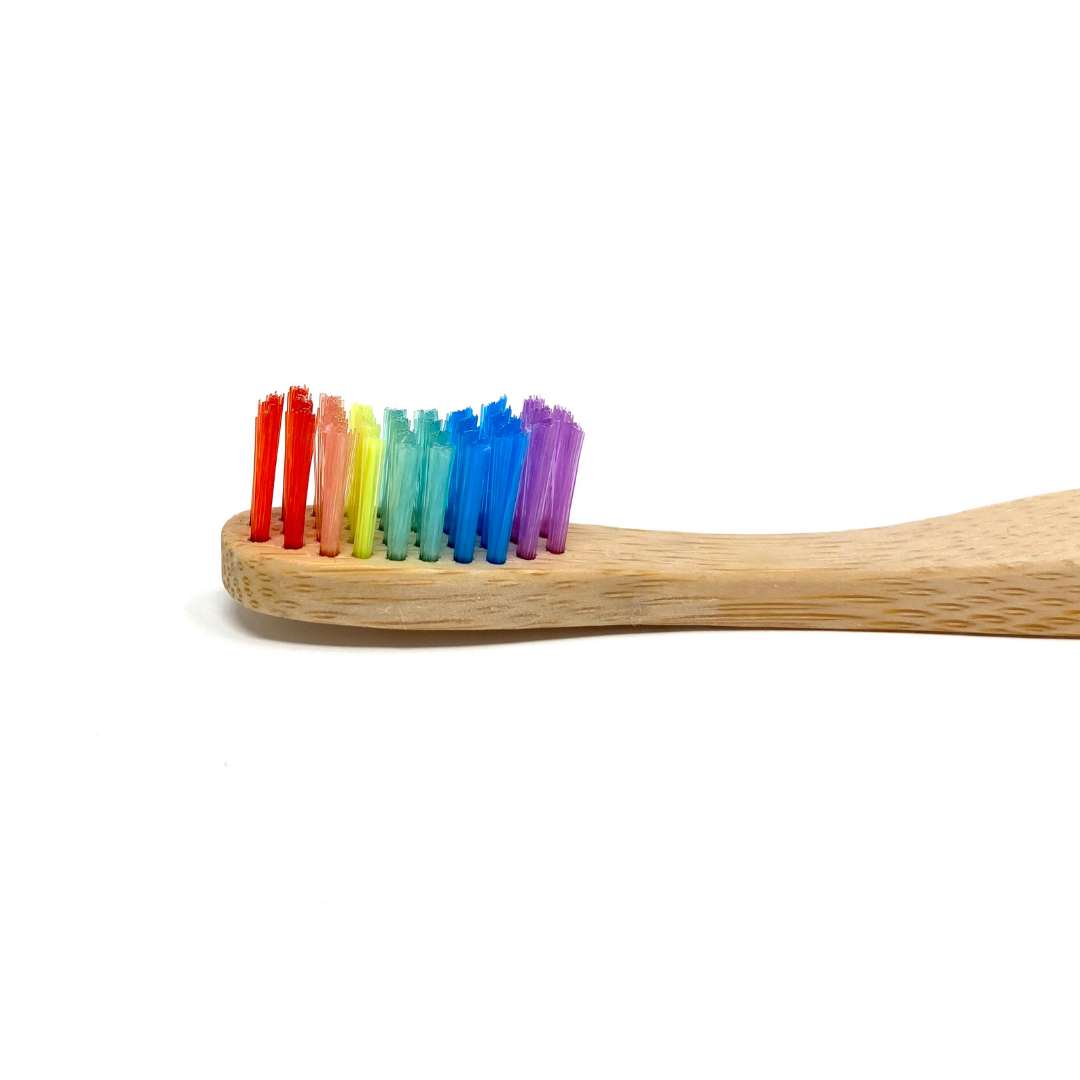 Packaging
There was far too much packaging (excessive).
I would prefer larger brush heads - some years ago they were larger.
Thank you so much for your feedback Micheal! As we discussed via email, we touched base with our shipping team to ensure minimal packaging when shipping our items as it is intended. We appreciate the time you took to write us and definitely taking note of your feedback about the head size, we trickled down this comment to our RD team.
Love
I'm very happy with these. I love finding green replacements for plastic. I'm going to keep extra ones on hand in case we have a guest that forgets their toothbrush. I wish they came in other options for firmer bristles, but overall I love them!
Keep your teeth and the earth clean!
Well made environmentally friendly toothbrush! These toothbrushes are biodegradable and compostable. Arrived in a set of four, nicely packaged in recyclable materials. Bright rainbow colours make the waveform soft bristles stand out. They are fun and worked well but there are other similar products for half the price.
- Environmentally sustainable materials
- Biodegradable and compostable
- Vegan and Cruelty Free
- Company donates portion of proceeds
Colourful Toothbrush
I did like the one toothbrush I received. It is colourful and the bristles are soft. It takes some getting used to, that feeling of...wood in your mouth - simply because it's not as forgiving as a plastic toothbrush head. But it's great that the toothbrush is biodegradable and made from bamboo. It's great!
Cute!
These are so cute!! Haven't tried one yet but they look like they'll do the trick